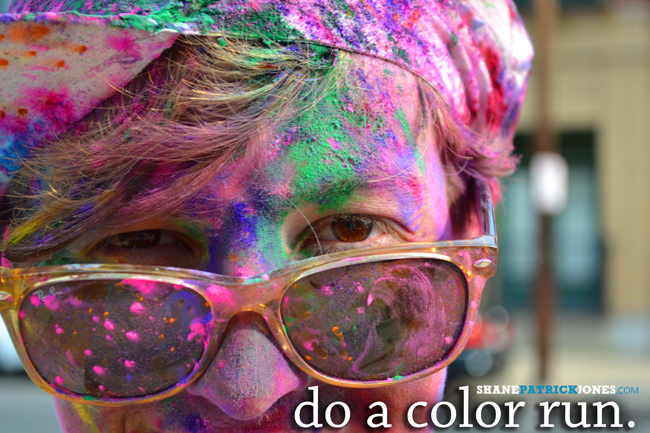 In Bucket List |

1 Comment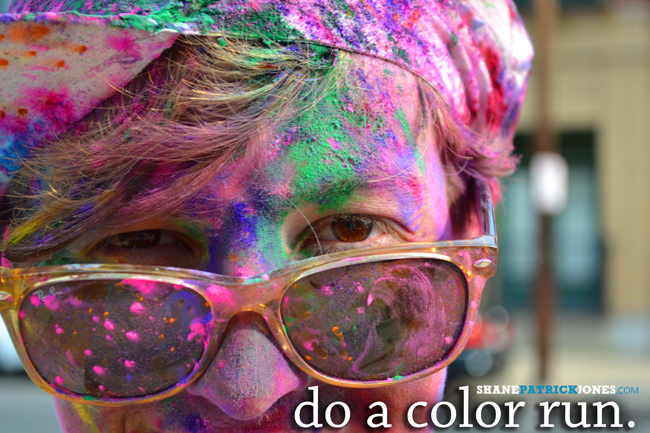 So I may have cheated a little bit.  I put it on my bucket list to participate in this year's Color Run, but how did I cheat?  I had already done one!! But not to cut any corners, I made sure I did 2 Color Runs this year. Count em'… TWO!   Where at you may ask?  The great city of Philadelphia and the lovely southern (sorta) metropolis of Richmond.
I had such a blast on my first Color Run, I couldn't resist signing up for the second.  I mean what's not to love?! I get to run, and anyone who knows me is aware of a little addiction I have. I just can't stop running! But everyone once and awhile, I need a change up.  And the best thing for that? Happy people throwing bucket loads of paint on me while I run. Oh yea, and don't forget intense dance parties before and after!  Seriously. Their advertising is no hoax.  The Color run really is the Happiest 5k on the Planet.
Anyways, so here are my takeaways from both of my experiences…just so you can walk the walk with me!
1. White is Right. Wait! Wait! You can't say that!?
Ok this should go without saying. but maybe its ok to conform just this once!!! You should probably wear all white!! How else is everyone going to know how much fun you had if they can't tell that you got painted like a canvas! In this case, you can continue to boast that you are the 99%. Everyone who's everyone is wearing white, and if you don't you'll regret it!
2.  You're Going to Need Some Wings
Or maybe if you like a little excitement for your run, it never hurts to accept a little bit of free Red Bull and to go carrying on and making a ruckus.  Alright, I admit…the race did start at 8 AM, and we didn't JUST drink Red Bull.  But definitely still recommend strictly drinking Red Bull, ESPECIALLY IF YOU'RE NOT 21 people!
3.  Always Go Back for Seconds
Running a 5k may be a little taxing for everyone who hates running. Which not ironically, is typically everyone.  But I promise you, that it make take a little extra effort, but running back to previous stops is totally worth it! You get double the paint, double the fun,  double the workout, and double the color! Chances are, if you're not trying to set a record pace, by the time you get around to passing the previous color stations, they are shutting down…but yet still have buckets of paint left!  Don't let it go to waste! That paint was meant to be thrown on you!  Go over and get crazy and ask for more. The volunteers love it!! In fact…they may even support you starting a dance party!! We started with just 5 of us dancing, and 2 volunteers throwing paint on us.  That shortly turned into a group of about 50 people and 10 volunteers going crazy with the paint!
4.  Finish the Race. And then be ready to Dance!
Just because you've finished the race, doesn't mean you're done!  Run right on through and follow the music to the DJ!  There's a huge dance party after the end of the race (besides the one you create at the leftovers station!) and you DON'T want to miss it!! Did the run fall short of expectations?  If you wanted paint to rain done on you like a waterfall…then the dance party is the place to be!!  Here they time paint throws so everyones combined effort can make the sky turn to a rainbow!  If you don't believe me…just check out these pictures!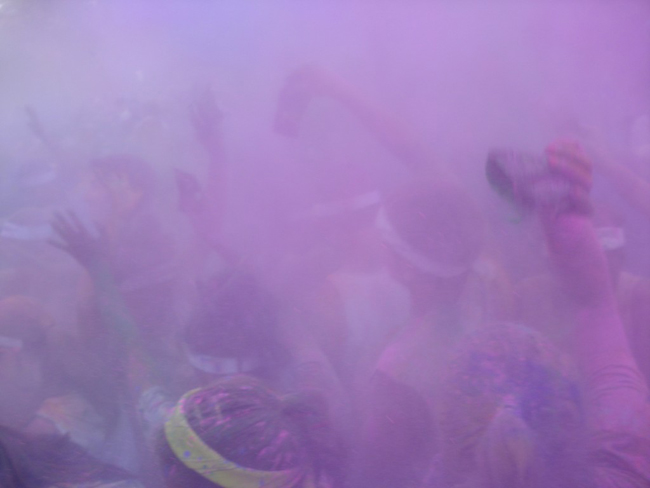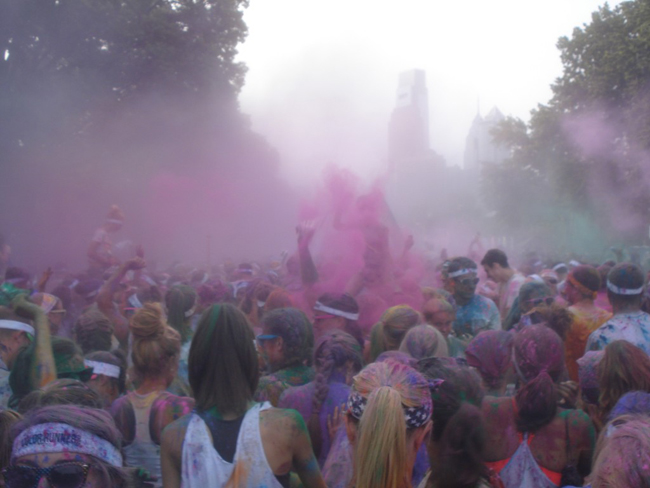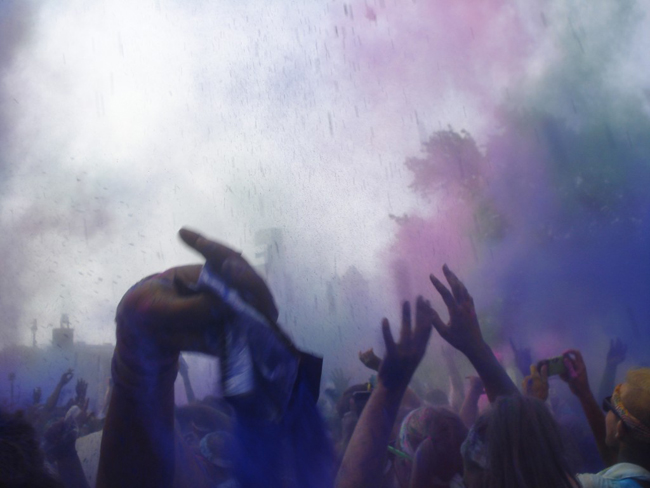 Afterwards, you'll come out looking like this!!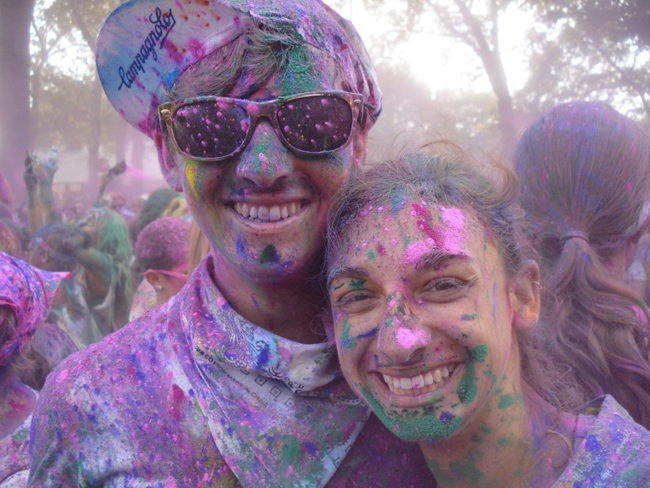 5.  Do it with People Who Are Ready to  Let Loose
Finally, I just want to say, this event would be only average fun if you did it with average people.  But I think that's how pretty much anything is.  Surround yourself with fun people who are always ready to let loose and you'll have an amazing time!  I've found some of the greatest people I'll ever meet, and I'm going to make sure I keep doing more with them every day.  Don't shy away from the crazy people…embrace them!!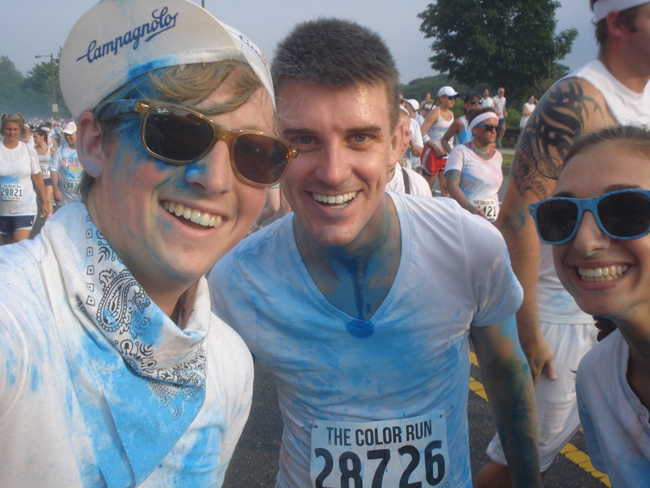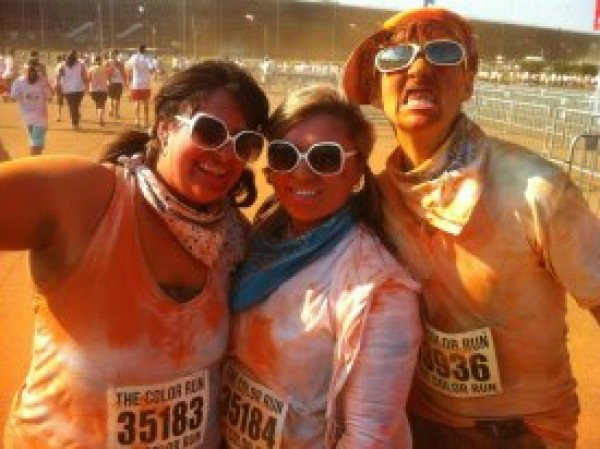 6.  Rest, Rinse, Repeat
After it's all said and done, you'll be tired. And I mean tired!!! So take a nice rest, then rinse. Rinse maybe another couple of times. Ok. And another 5 times. What you still have what looks like eye liner, and paint in your ears? That's permanent. But totally worth it!  And then get online and sign up for your next one! DO IT NOW!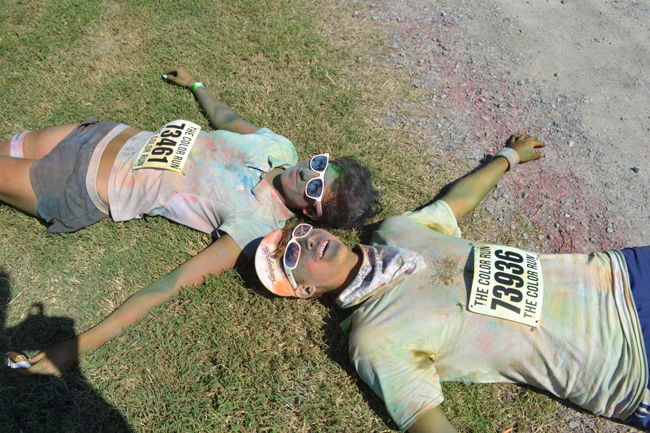 Have similar experiences? Share them in the comments please! I'd love to hear about it!!
The following two tabs change content below.
Shane Jones is a Senior Social Outreach Specialist with management roots in online PR. A strong proponent for the power of personal, "humanized," digital collaboration, Shane shares his opinions and knowledge on Social Outreach and Digital Marketing. Additionally he blogs about his life's adventures, as he continues to "
Empty his Bucket
." He's always on the lookout for more bucket list ideas. Follow me on
Twitter @ShaneJones15
,
Google +
, and
LinkedIn
.
Latest posts by Shane Jones (see all)