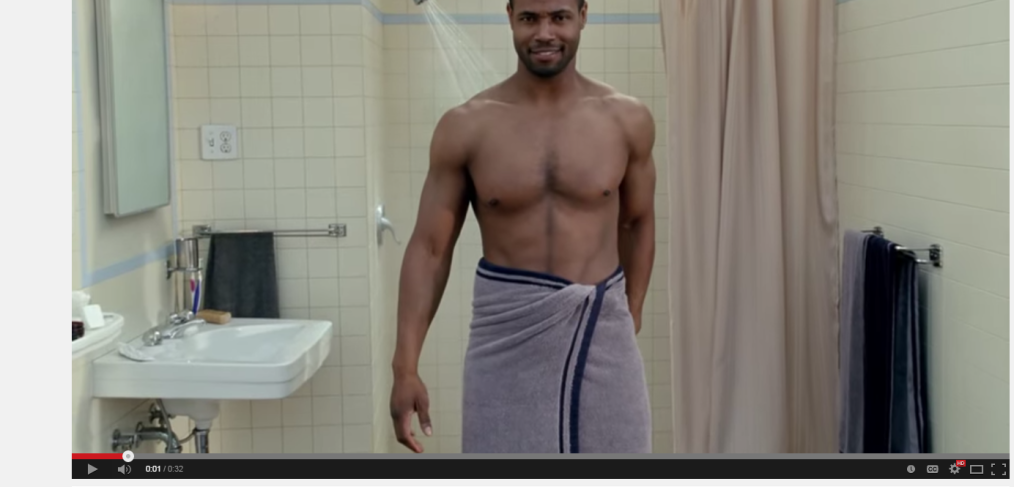 Are you using Google AdWords for video yet? Whether you answered yes or no, be warned that the competition is only growing fiercer.
While the adoption rate of AdWords for video has definitely been more brisk lately, it remains a relatively underutilized tool for online marketers. Let's not mince words here: online video content has the potential to unseat the TV spot as the dominant form of visual advertising.
In the meantime? Now is your chance to take advantage of this great toolset. And I'm here to show you how to do it.
Why Video?
In 2012, there were 208 billion mobile video views worldwide. It's estimated that video traffic will make up more than half of all consumer Internet traffic worldwide by 2016.
Video communicates more than you could ever hope to get across with text-based content. While text is fairly one-dimensional, video allows people to hear you, and more importantly, to see you and your body language.
This extra dimension of communication makes videos as effective as TV for branding, with an average 20% increase in traffic to your site.
It also offers greater retention and recall – in fact, up to 5x greater than text alone.
Creating Your Video Ad
Video is a powerful tool for visually connecting with your audience. It allows you to place a physical representation of your brand on the sites they already use online.
Unfortunately, you can't just go out and shoot a random video about whatever pops into your head. In order to perform well, your video has to be strategic, targeted to your audience, and branded for your company.
But how do you get started?
The answer: you find your big idea.
The Big Idea
There are tons of YouTube creators out there that post videos with seemingly instant success.
Their secret? The big idea.
That's right. All successful video campaigners start with that great, impactful idea that's powerful enough to affect the size and loyalty of their audiences. Brands then build out a long-term, repeatable series of videos that play off their big idea, which helps them build and sustain a loyal fan base.
But where do these magical, mysterious ideas come from?
Passion!
As a brand, what are you genuinely interested in? Maybe you sell a product with the goal of helping single mothers, or maybe you're a non-profit organization that feeds the hungry overseas. Identify your calling, and then brainstorm ways you can use video to tell that story, with your passion as your plot and your brand as the main character.
Case Study: The Man Your Man Could Smell Like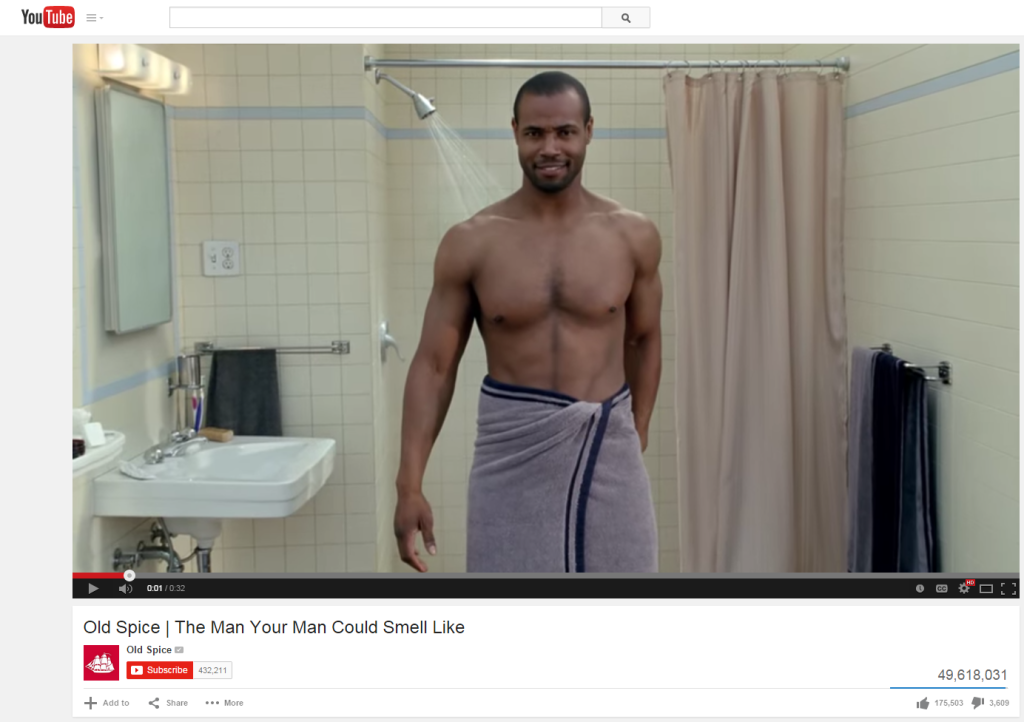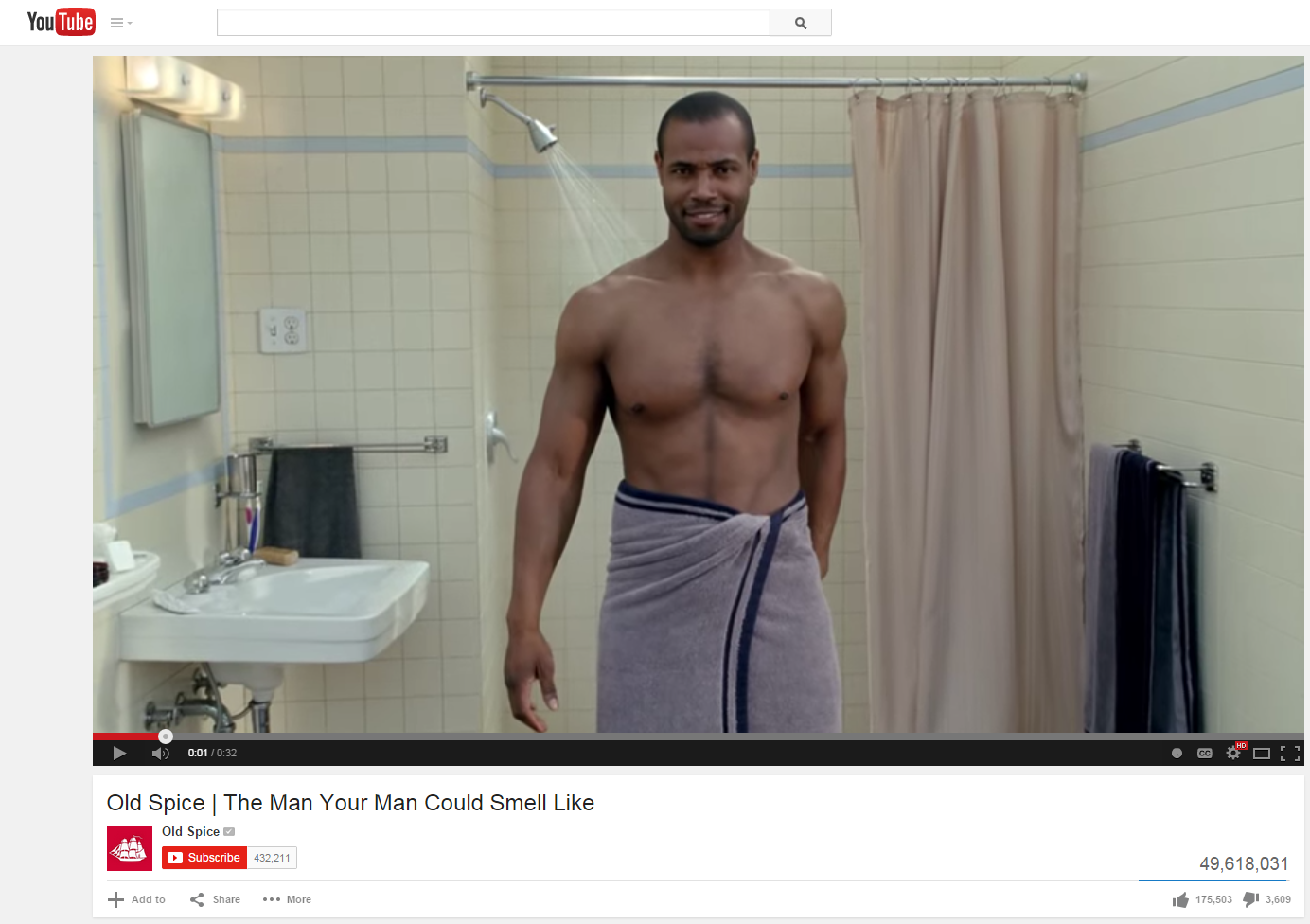 Old Spice's "The Man Your Man Could Smell Like" videos are a classic example of a successful big idea. In 2010, Old Spice decided that it needed to better target women in its advertisements, since women make the majority of purchasing decisions for male household members.
This brought Old Spice to a challenging marketing question: how do you market men's body wash to women?
Their answer: market the product benefits as they appeal to women.
Thus, "The Man Your Man Could Smell Like" was born, featuring an attractive male model who is too good to be true; he's good-looking, buys you diamonds, gets you tickets to "that thing you like," and rides horseback on the beach.
The big idea of this video campaign is that, while your man can never act like this man, at least he can smell like him.
How? By using Old Spice.
This big idea instantly went viral. Since it initially debuted "The Man Your Man Could Smell Like," Old Spice released numerous videos in a series using that same big idea, including "Boat" and "Scent Vacation."
Basically, if it drives you and can be represented visually, it can be your big idea.
The Filming Process
After the big idea comes the filming process, where you actually shoot and edit your video.
No matter who you are or what you do, there's a good chance that this step of the process is the one that gives you pause: you might be asking yourself if you have the time, the money, or the resources to see your vision through to completion.
I'm here to tell you that you do.
To be fair, there are a number of issues that you'll need to address, many of which are unique to video production. These include:
Script development
Lighting
Direction
Audio and sound
Editing/post-production software
Yes, it does sound complicated. And that's what will make the final result so much more satisfying. So how do you address all of these factors and make a winning video?
Let's address the fact that plenty of videos have gone viral over the last few years that were made on a shoestring budget. They just happened to have the right message, or timing, or any one of a hundred other mysterious qualities that made it a hit.
For everyone else, it might just make sense to turn to the professionals for a bit of help. 50Grove is a great site for anyone who's looking to make their YouTube debut: it's a directory of professional video producers, all of whom are ready to put their resources and skills to work for you.
And then there's the DIY solution. If you're feeling ambitious, you can visit your local hardware store, spend about $100, and build your own lighting kit. The results will look anything but "budget-priced."
Google AdWords for Video
So now that you've established a big idea and filmed your video, how do you show it to your target audience?
You could upload it to YouTube, and then desperately try to point your website and social media viewers to your channel.
Or you could sign up for a Google AdWords account, and bring the video to them.
With Google AdWords for Video, viewers see your ad while they're watching or searching for YouTube videos or while they browse related web content. This allows you to send a highly targeted message to specific, interested users.
The greatest feature of Google Adwords is that it allows you to promote your video ad in a TrueView system, which means that you only pay when a viewer chooses to watch your ad (as opposed to paying once the impression is served).
This setup allows you to:
Reach targeted viewers (targeted by demographics or by relevant search terms)
Pay only for viewers who choose to watch your ad (so you're not wasting money advertising to people who aren't interested in your offer)
Manage your campaign with ease
Essentially, everyone wins: viewers choose ads relevant to them, and you only pay to reach people who are interested in your message (and most likely to convert on it). It also grants you a valuable boost in YouTube views, which increases your virality and sharability.
Google AdWords for YouTube
Obviously, when anyone thinks about online videos, the first thing they think of is YouTube. And with over 4 billion views a day, it certainly has earned that right.
It's also earned the right to be the center of your video advertising campaign. Through AdWords, YouTube offers various advertising formats to help get your message in front of YouTubers when they're searching for or watching a video.
YouTube Advertising Formats
YouTube offers three basic advertising formats for video: in-stream, in-search and in-display ads. Here's a basic breakdown of what each format looks like, how each one functions, and the pros and cons of each.
In-Stream Ads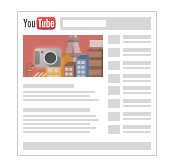 In-stream ads display in the area where normal YouTube videos run. They play like a TV-style ad before, during or after a user sees a YouTube video.
Viewers see five seconds of your ad and then can keep watching, or they can choose to skip. However, you only pay if they watch for at least 30 seconds or to the end of the video (if your video is less than 30 seconds).
You can change your settings to make your video mandatory (that is, viewers must watch the full length of your ad before they can view their content).
Live Example
For example, let's say that we were to do a search on YouTube for the famous "Charlie Bit My Finger" viral video. When we get to the page to watch the video, we might see an ad play before "Charlie Bit My Finger" starts. On that ad, we'd see a pop-up that counts down 5 seconds for us, at which time we can click to skip the ad or we can continue watching.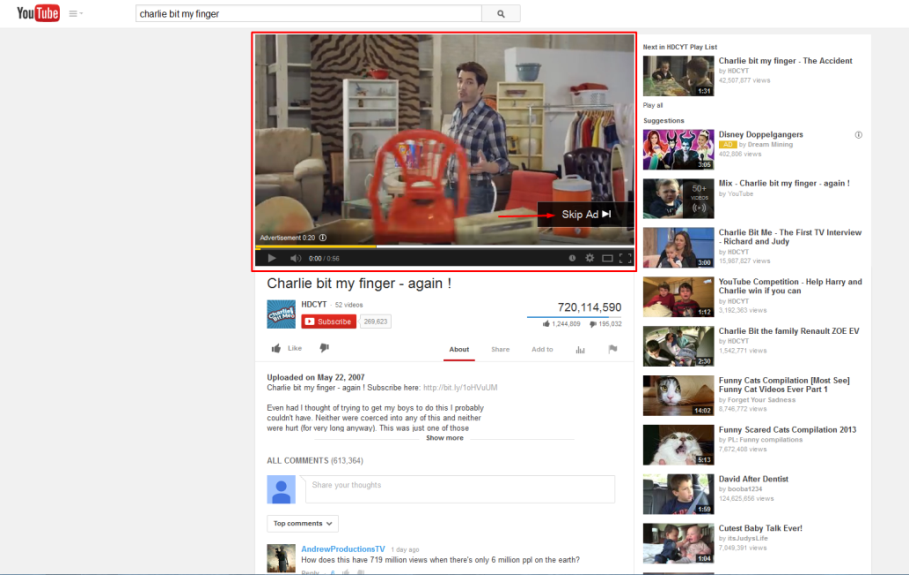 Upside: This type of ad allows you to advertise to a captive viewer. An in-stream ad grants you the opportunity to introduce yourself to potential customers, who may not be familiar with you, and to maintain relationships with your current ones.
Downside: It's only for a guaranteed 5 seconds. And even though those 5 seconds seem trivial, viewers may grow agitated that they are forced to watch your video at all. They may mute your ad, ignore it altogether, and skip it as soon as possible.
You can either use that 5 seconds to make a case as to why the viewer should continue to watch your ad, or you can use that 5 seconds to do some down and dirty advertising while you have the screen time.
In-Search Ads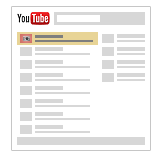 While in-stream ads play automatically once a user lands on the page, in-search ads do not play unless they are clicked on.
In-search ads appear in a special promoted section at the top of the video search results page on YouTube and Google video results.
Live Example
Let's go back to "Charlie Bit My Finger." On the search results page, we might see that the first two videos displayed are actually video ads. If they interest us, we can choose view them before we proceed to watch "Charlie Bit My Finger." If not, we skip over them entirely and go directly to our feature video.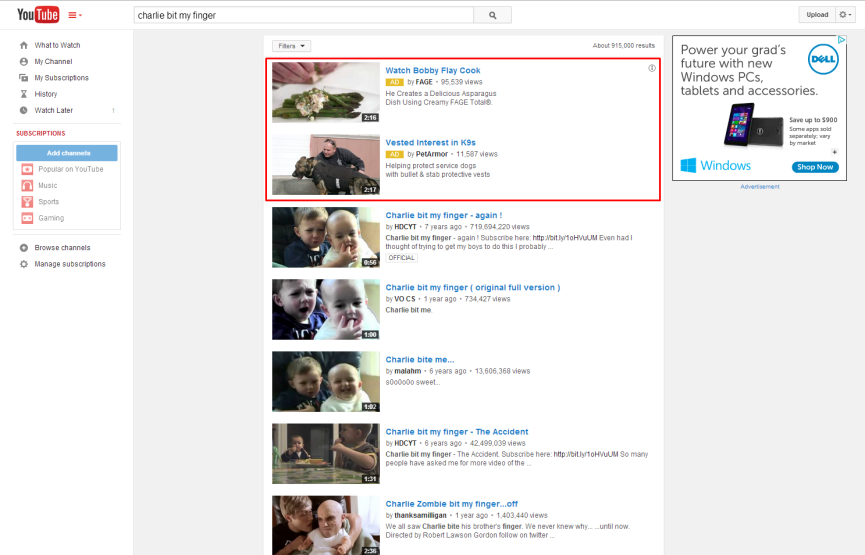 Upside: Since people can choose whether or not to play your video, they aren't as likely to be irritated by it.
Downside: You only gain viewers who are already interested in your brand, which can improve your customer loyalty but really limit your potential for consumer growth.
In-Display Ads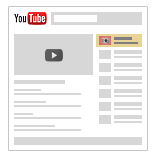 The third format, in-display ads, places your video alongside other YouTube videos on actual video pages.
Live Example
Once we're done watching "Charlie Bit My Finger," we might look down the right-hand column of related videos to choose another. At the top of the list, we would see one or two video ads, formatted exactly like regular videos that we could click on to watch.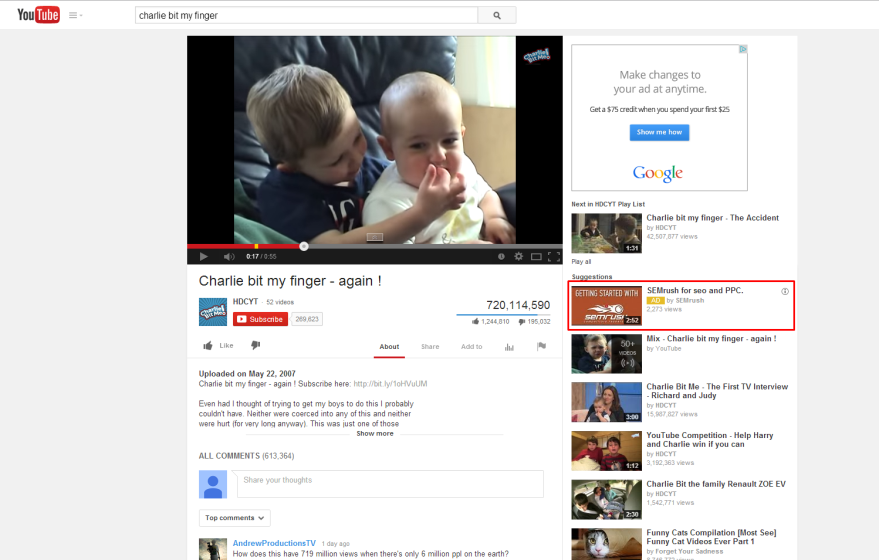 Upside: Your video is placed right alongside other videos and looks just like them, increasing the chances that viewers may click on it and view it.
Downside: Again, viewers may be irritated once they realize they clicked on an ad and immediately close it.
Google AdWords for Google Display Network
YouTube is definitely an excellent command center for video marketing, but it doesn't have to be the venue of your entire online presence. There's another online video experience that can pack a punch as well.
And we've almost all been through it: you're on a website, browsing through products, before you go to another website and see – gasp! – an ad for the site you were just on – possibly even for the specific product you were just looking at.
This all too familiar (and creepy) experience has a name: Google Display Network. It's an AdWords program designed to promote ads on websites, with the goal of directing interested customers back to your site. And it reaches 89% of all online viewers.
With Google Display Network, you can harness the power of video to create an appealing ad, which you can place on sites that are relevant to what you're selling. You can also target the people who have previously visited your site, keeping your brand top-of-mind and helping them commit to a purchase.
By showing your video ad to the people who already displayed interest in your site, your advertising dollars go directly to the people who are most likely to convert with you.
Google Display Network Advertising Format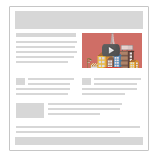 A video on Google Display Network will appear on the side of a webpage (usually to the right) and will often play automatically once a person lands on the page.
Live Example
The screenshot below was taken on Forbes. It was an article about Google ads, and many of the advertisements on the right-hand side of the screen were about – you guessed it – online advertising.

Upside: The upside is fairly evident. Your content will be served to people who are already very likely to be interested in what you're selling. These tend to be the people who were perhaps exploring the alternatives and will now benefit from a reminder.
Downside: The downside is more-or-less the same as with any other online advertising medium: there's already a rather limited pool of good will among Internet users, and displaying ads of any kind usually doesn't help any. Even so, relevant ads are better than ones that are completely off-topic.
Google AdWords Policies
Google has provided some basic advertising principles that drive their AdWords policies. According to the support.google.com website, all advertising should:
Provide a positive user experience
Be safe for all users
Be accurate and honest
Maintain user trust and privacy
Comply with all laws and regulations
Be compatible with Google's brand
Here's a general breakdown of two really important advertising policies for your video marketing campaign: the YouTube ad policy and the policy for advertising based on interests and location.
YouTube Ad Policy
Since it's such a widely used site, YouTube has the responsibility to ensure that its videos are appropriate and respectful of the general community.
Therefore, YouTube has set some community guidelines so that the site is not abused.
If you are posting your video to YouTube, you must:
Respect copyright laws
Not cross the line

No sexually explicit content
No illegal content (such as animal abuse or underage drinking)
No graphic violence
No shocking content (such as dead bodies or accidents intended to disgust)

Not use hate speech
Not use misleading descriptions, tags, titles or thumbnails in order to gain views
Any content that violates these guidelines can be flagged for review 24 hours a day, seven days a week. Videos deemed inappropriate will be removed, and the responsible account will be penalized or even terminated.
Your ultimate goal is to appeal to users, not to offend them. Therefore, it most likely wouldn't be good practice to incorporate any of that content anyway. However, you should still keep these guidelines in mind, so your video can enjoy a long lifespan online.
Policy for Advertising Based on Interests and Location
If you are going to display your video to people based on specific demographics (i.e. your video only plays for people in Boston), you need to follow Google's policy for advertising based on interests and location.
In summary, this policy states that:
Your Privacy Policy must state any information on use of AdWords features that target by demographic
You can't use your video to collect or share personally identifiable information, such as email addresses or credit card numbers
You can't modify or obscure Google's in-ads notices to disclose interest-based advertising
Basically, if you're going to target specific groups of people (which can be a smart marketing move), make sure you don't do anything shady with people's personal information. Otherwise, Google will pull your ad and your trustworthiness will be compromised.
Measuring for Performance
You can closely monitor your ads' performance on both YouTube and other Google Display Network sites from the Ads, Videos and Targets tabs of your AdWords account. On these tabs, you'll be able to view information regarding the following metrics:
Number and rate of views, sharing and endorsements
Quartiles (or percent completion of views)
Earned actions, including earned views, comments, likes, etc.
The Ads Tab – View Your Videos
The Ads tab allows you to do three things with your videos:
Review your video's performance based on format (in-display and in-stream).

Status, impressions, views, and total cost

View your video in all four available ad formats.
View your ad as though you were a general user.
The Videos Tab – Compare Your Videos
The Videos tab shows your video ad performance across different variations in graph format (i.e. comparing your in-display ad performance to your in-stream ad performance for the same video).
The graph is clickable, so you can review particular data segmentation for every video and every format.
The Targets Tab – Assess Your Videos
The Targets tab also shows your video ad performance by demographic. It also allows you to gather statistics related to retention and engagement rates.
This data can help you better understand how many of your users watched and understood your video. It can also relay valuable information on how your videos drive traffic to your YouTube channel.
Success Stories
Here are two stories of companies who used Google AdWords videos to generate brand awareness and increase sales.
Generating Awareness – ResortQuest
ResortQuest manages almost 10,000 vacation rental properties in the US. You might think that a company that size wouldn't need a lot of help with publicity, but I'll let John Ellis, their senior online marketing manager, explain it in his own words:
"In a harsh economic climate like the one we have today… it's essential you're able to scale back and refocus your dollars on the highest-conversion placements."
In other words, ResortQuest turned to AdWords to increase awareness of their brand among those who were most likely to take a serious interest in what they offer.
Increasing Sales – Julian Bakery
Located in La Jolla, California, Julian Bakery has a vested interest in appealing to a local audience. They began advertising with Google AdWords because, as they put it, they're "always looking for new ways to reach more customers."
And it worked. Julian Bakery has been advertising with AdWords for more than three years now, and they've seen their workforce more than triple in size in that time. Their conversions have leapt by 35%, and their vendors frequently tell them "whatever you're doing, it's working."
Conclusion
Online video ads are the new TV spot, or soon will be. Business owners everywhere are waking up to that fact and creating rich online content that complements – rather than distracts or detracts from – the online experience of their target market.
One of the key takeaways here is that – for the time being – there's less competition in the online marketing realm than in the television realm. The audience is huge, but the idea that producing online video content is prohibitively expensive or difficult has been holding companies back from investing in it on a larger scale.
Which means that this is your chance to make a big impression. Have you used AdWords in your video marketing efforts? Feel free to share your thoughts below.